Back on the pitch
03/10/2023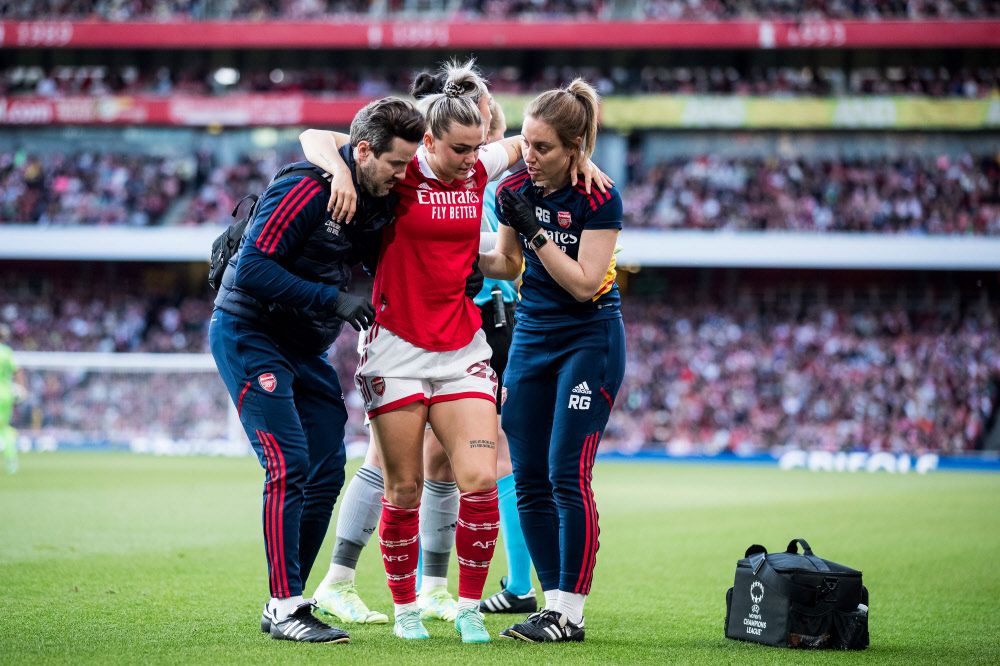 ---
Laura Wienroither is in prominent company. The Austrian international, like many female footballers in the top leagues before her, suffered a torn cruciate ligament and is currently having to toil in rehabilitation for her comeback with Arsenal FC. I spoke to Laura ahead of the start of the Women's Super League season about her battle to get back on the pitch and her goals for the season with the Gunners.
Laura, you are currently in rehabilitation, you suffered a cruciate ligament rupture. How are you doing?
Laura Wienroither: Actually really good, I have to say. Well, everything is going according to plan so far, I'm actually in the middle of rehab, I went running again at AlterG for the first time last week. That's in the vacuum where you get some body weight taken off. Yeah, that's why it actually feels quite good as I'm back to somewhat normal "movement". I can't complain, I'm in a very good environment and in very good company.
What is the prognosis for you? What did the doctors tell you: When do you expect to be able to play again?
Laura Wienroither: Basically, you always expect at least nine months. For me, that would realistically be around March 2024. But yes, I have to say that I don't really put any pressure on myself as far as that is concerned. I want to get as fit as possible. Of course, you always want to get back on the pitch as soon as possible. But I think this is an injury where you have to show a bit of patience and not rush so that you can come back completely 100 per cent. And that's my goal, of course. Whether it takes a little longer or a little shorter is often out of your hands. But I will definitely do everything I can to come back as soon as possible.
You just said patience is also an important factor. How difficult is it for you to be patient?
Laura Wienroither: I actually knew from the first second it happened: OK, it's definitely my cruciate ligament. I've never had a long injury before, but I knew what to expect because I've seen a few players before me with this injury, so I know how such a process works. I know it's a long injury, a slow process. But I think everyone who is part of professional sport knows that injuries are unfortunately part of football and so I haven't had to deal with it at all until now.
You're in good company in rehab. Unfortunately, it has to be said that you have an epidemic of knee injuries at Arsenal, including cruciate ligament injuries, Williamson, Mead, Miedema, you got injured. Do you have an explanation as to why there were so many cruciate ligament injuries? Is there an internal investigation?
Laura Wienroither: Of course, this is being investigated. But I think with cruciate ligament injuries it is always difficult to single out specific factors. I think it's probably often an interplay of many factors. But I'm basically of the opinion that some things in life just happen the way they're supposed to happen, and that's why I think that you probably can't necessarily have very much influence on cruciate injuries as a player or a club. Yes, I do believe that there have simply been a lot of games in women's football in the last one or two years. The quality of football in general has become very, very high, especially in England. And these are things that female players are probably not used to. And yes, I do believe that the higher echelons (associations) have to be a bit more considerate of the players with regard to the match schedules and the tournaments or competitions that now take place in women's football. You just have to make it as player-friendly as possible and make sure that players get the breaks they need.that now take place in women's football, yes, just make sure that you still make it as player-friendly as possible and make sure that players get the breaks they need.
I agree with you. We saw that recently after the tournaments, when it didn't last 2 or 3 weeks and the Bundesliga, for example, was already training again because they started preparing again shortly after the tournament because the tournaments are relatively late. The World Cup was also really late. If you compare it with the men's team, is that also an issue where perhaps these season highlights could be scheduled at the same time? I know, then you have the problem of attention, but for the rhythm, for the recovery, it would probably be better if you put the tournaments a little closer to the end of the season, but have a longer summer break?
Laura Wienroither: Yes, that's actually what I meant with the higher echelons, that they have to look at it a bit, that you simply have to change something now, especially after the year where so many injuries have occurred, It's partly no longer human how many games have to be played in such a short time. And yes, you often forget that in football it's not only the physical part that's important, but also the mental part. And if you never really have the time to have a longer holiday or a longer break, then it's just very mentally tiring and you reach a point where you really have to struggle to keep up with the whole rhythm of the game. And the clubs' hands are tied to a certain extent, because they can't influence a Nations League or Champions League qualification. That's why I believe that something simply has to happen from the top.
I am one hundred percent with you. You said that the psyche also plays a role, the psyche also plays a role after the injury. How much did you have to deal with that?Y ou said impatience was not the issue. But did you fall into a hole after the diagnosis?
Laura Wienroither: I actually have to say, not at all. I actually accepted the injury as it came. And yes, in my situation it is perhaps a bit "easier", precisely because I have a good environment and I simply know that I can rely on these people. And I am basically a very positive person. That's why, as I said earlier, I believe that things in life always happen for a reason, and that's what I want to believe about the injury, and that's what I can hold on to a bit, and that's why I haven't really had to struggle with it at all so far.
That's very positive. To what extent does it help you that you are not the only one who is currently rehabbing at Arsenal FC with a cruciate ligament injury? Is it good luck that you then have a training partner who has the same suffering, where you can build each other up, where you can push each other?
Laura Wienroither: Yes, definitely. Of course you never want to have someone in the team who is injured. But in this situation, it helps a lot. Of course, it's always different when you can talk to someone who is going through the same thing or who has had the process before.That makes it much easier and it makes a difference whether you are alone or have someone with whom you can share the time a bit. And it's also nice because you can simply be happy for someone else when the next step in rehab happens and vice versa, of course.That's why I think this point is definitely something positive about the injury.
Let`s talk about the current sporting situation at Arsenal FC. On 1 October, the Women's Super League starts against Liverpool FC. Before that, you had the Champions League play-offs and – surprisingly for many – you lost to Paris FC on penalties. What does this elimination mean for you as a club?
Laura Wienroither: Yes, of course, for a club like Arsenal, the aim is definitely to play in the Champions League, we don't need to discuss that. We are still in three competitions and we can play for three titles. And that is definitely our goal this season.
Every situation has a positive and a negative side. Can it also help you that you don't have the Champions League trips during the week now, that you can concentrate on the league? Can it help you that you have a bit more time during the week to focus on the league and on the cup competitions?
Laura Wienroither: Yes definitely. I think it's something where we can just take advantage of it or have to take advantage of it. That we can simply prepare for league games with enough time and I know what's in the team, how much potential and quality is in the team. And yes, that's definitely something we have to take into this season, that we work specifically towards the games and prepare with time.
When will Arsenal have reason to celebrate again? Do you see the squad as strong enough that there will be silverware to hold up again this year?
Laura Wienroither: I think with the new arrivals and the players who have been here before, we have a lot of quality. With the players we have, it's very difficult to beat us, and I'm definitely of the opinion that we can beat any opponent in Europe with this team. That's why I'm 100 per cent convinced.
---
"With the players we have, it's very difficult to beat us, and I'm definitely of the opinion that we can beat any opponent in Europe with this team."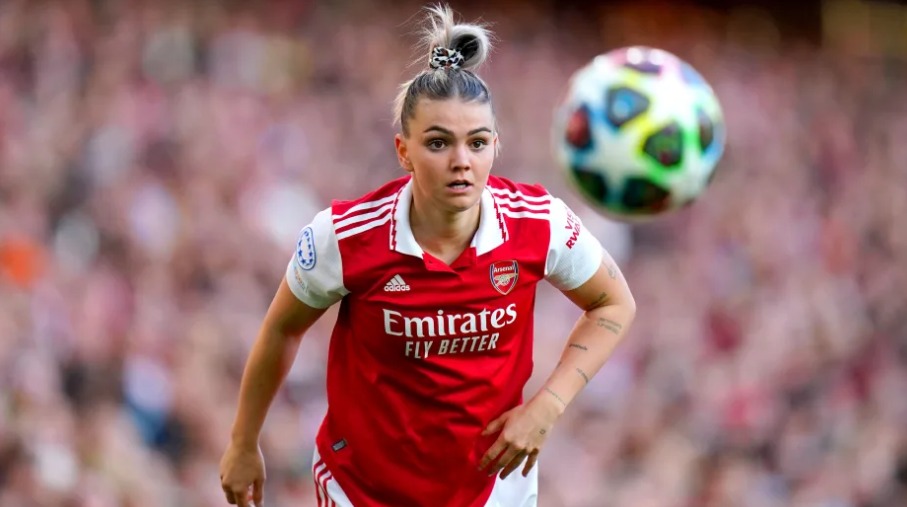 ---
You just said that the squad is very strong. You made good transfers and expensive transfers. How do you personally deal with the competitive situation? Is that something that motivates you when you see the squad being strengthened so prominently?
Laura Wienroither: It's something that every player wants. Quality lives from competition and if you want to win the league at the end of the season, you need enough players. And I think that's the case with us now and every player benefits from that because firstly it increases the training level, secondly it increases the possibilities in a game.
I would like to talk a bit about the league in general. There are very high-profile names in the Women's Super League, including Tottenham Hotspurs. There is a very big rivalry in the men's league. What is it like when it comes to games between the women's teams? Do you notice this rivalry? How is it among the players and maybe also in the stands when you play against Spurs?
Laura Wienroither: A North London derby is always something very special. It's simply a tradition. It's a game you definitely want to win, it has a certain flair. Of course you treat every player with respect, but you can definitely feel the rivalry between the respective clubs, whether it's on the pitch or in the stands. But never in a negative sense, but simply that players or fans are only spurred on even more.
Which game of the season do you look forward to the most?
Laura Wienroither: I think the games against Chelsea are always special, it's always a fight, usually a game of equals. And I think those are the games that you would love to play every weekend as a player: very high intensity, really good quality, interesting for the spectators because anything can happen on both sides.
Speaking of Chelsea, they lost two players to the German Bundesliga this summer, with Pernille Harder and Magdalena Eriksson. You know the German Bundesliga, and you now know the Women's Super League. Were you surprised when you heard about this transfer?
Laura Wienroither: Not really. Both have been with Chelsea for a relatively long time and I think as an athlete it's normal that you want to change your environment, to take on a new challenge. And Bayern is a super club with a super infrastructure and good conditions. That's why I'm not necessarily surprised.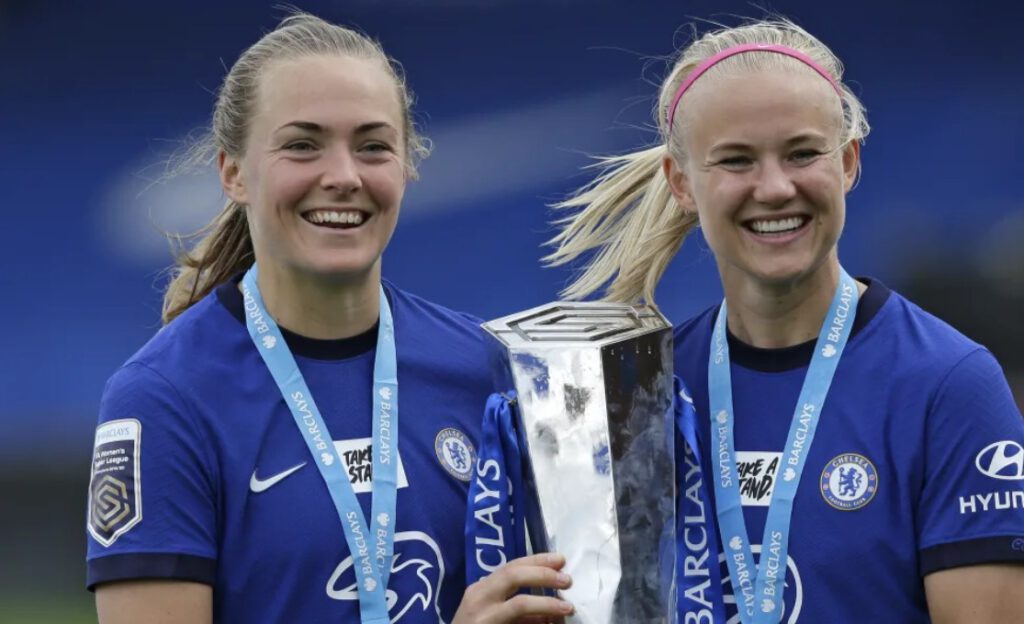 How is the German Bundesliga generally perceived in England? What is the standing?
Laura Wienroither: Yes, there is generally a very high level of respect between the German and English players or from the association. I think both associations know that the league is very good, no matter whether it is in Germany or England, and that is what the last European Championship showed when the two teams reached the final. Yes, so I think that the Bundesliga is regarded with a lot of respect.
You just talked about challenges. I would also like to trace your career a little bit. You played in various teams in Austria and then played one year at the top Austrian club St. Pölten, after which you spent three years at Hoffenheim and then moved to Arsenal in January 2022. From the outside, that's been a very fast and very steep career climb. Would you agree on that?
Laura Wienroither: Yes, definitely. After I came to Hoffenheim from St. Pölten, I was in the second team at the beginning, so I was able to get used to the change a bit. Then after half a year I was in the Bundesliga squad, but my time in Hoffenheim hasn't just been smooth. I didn't play regularly, and in the beginning I actually always played as a centre-back. And then for the last six months, when we were in the Champions League with Hoffenheim, I played as a right-back. And yes, then it was a lucky coincidence that we played Arsenal in the group stage and that's how the transfer came about. But I definitely couldn't have dreamed that I would play in the Women's Super League in general and that it would happen so quickly. And when I now look back on the years in Hoffenheim, it confirms once again what I have already said: That things happen in life as they should, and that you should just trust life's timing. And I've actually always managed to do that quite well. And now I'm very happy to be sitting in London.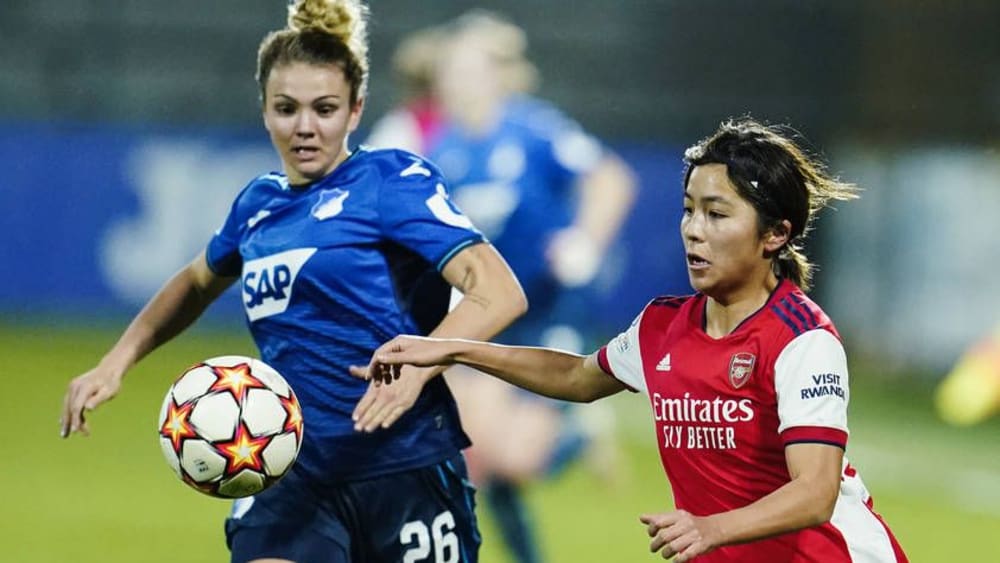 Would you say that if you hadn't played against Arsenal, maybe you would still be playing in Hoffenheim now?
Laura Wienroither: It's difficult to say, but I think that in football you have to be in the right place at the right time and then have a good game so that clubs take notice of you. I don't know now how it would have developed differently, but basically I was always open to taking on a new challenge. But I could never have dreamed that it would be a big club like Arsenal, such a traditional club, with so many really good players.
You told me that at the beginning in Hoffenheim you played as a centre-back and later you were lined up as a right-back, where you made a big splash. Now you are more or less set as a right-back. It must have been quite a surprise that you, being 1.65 metres tall, was nominated in the centre?
Laura Wienroither: I've actually always played as a wing back, I honestly don't know any more how it came about that I ended up in the centre-back position. But yes, of course I've always played it, because you always play where the coach puts you. But I have always known that this is not the position where I have the most strengths.I'm basically a player who likes to play offensively, and as a centre-back you need a certain size. You are not involved in the offensive game. Yes, the header is not really my strength. That's why all my strengths don't necessarily apply to the centre-back position. Yes, that's why I'm even happier that I'm allowed to play at right-back again.
You have now found your place on the right side. It's all the more interesting because you're an offensive-minded player: Who is your footballing role model?
Laura Wienroither: I have actually been asked this question very often, but I never have an answer. Because I have never had a role model. And still don't, at least not in my position.
But is there any other player from whom you say you would like to learn something?
Laura Wienroither: Well, I have to say that I'm lucky that I get to train with Kim Little every day. She is definitely the best player I've ever played with, very high up in women's football at the moment. I think she always has outstanding games. But when you see her consistency over complete training weeks, every single day and then every weekend at the match, and that over a relatively long period of time by now… Yes, I have to say: Chapeau, that is really, really great!
---
"She is definitely the best player I've ever played with"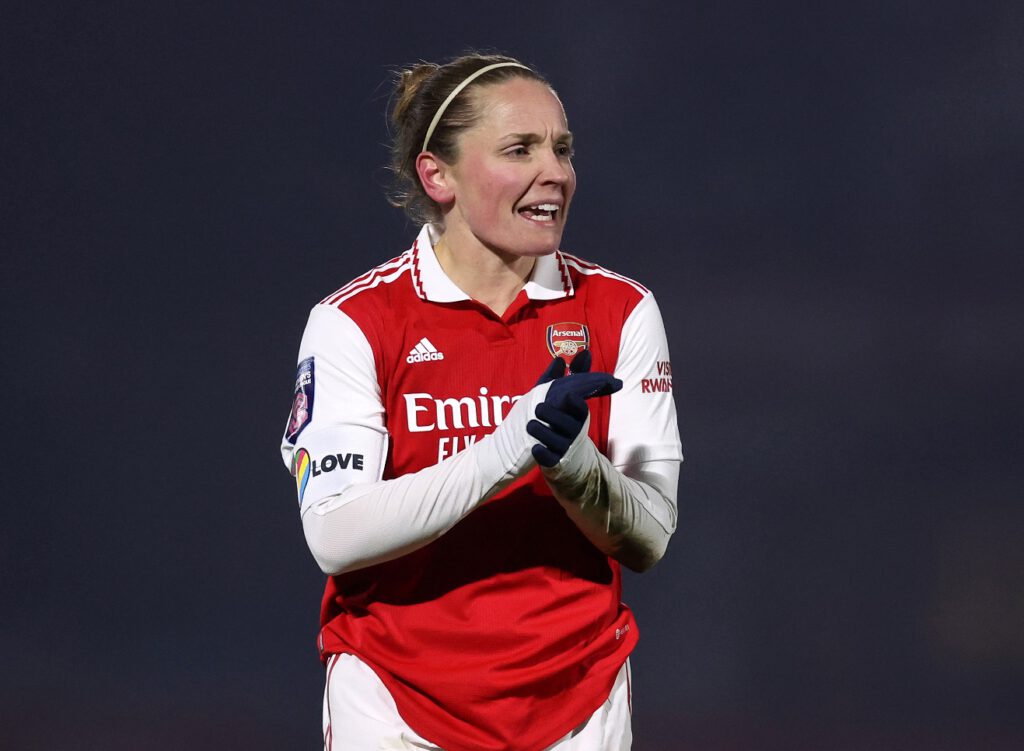 ---
Let's come back to a topic off the pitch. You've been in London for about a year and a half now, you lived in Hoffenheim before that. Maybe they are worlds apart in terms of football, but at least certainly in terms of life. How difficult was it for you to adjust on and off the pitch?
Laura Wienroither: Not at all difficult, I must say. Of course, it's always a bit of an adjustment when you're in a country where German is not the main language. But I have to say that I'm always very open to new things, and that's what I was in this situation, and I had players who took me by the hand at the beginning, who have been with the club for a while, and that makes it easier.The club is also very family-like and that made me feel at home from the very beginning.That has always been very special.
And you know a lot of the players at Arsenal from the German Bundesliga. They will probably have been important reference persons when you started at your new club. I'm thinking of Manuela Zinsberger or Viktoria Schnaderbeck.
Laura Wienroither: Yes, of course, and also players who speak German. Of course, that makes it a bit easier at the beginning with various questions or with all the organisational things with the flat, car, bank, insurance, etc. But yes, in general the team was very good, very open, very helpful. That's why I didn't have any problems at all.
And how would you describe the footballing differences between England and Germany, if there are any?
Laura Wienroither: In Germany, I would say that everything is basically very tactically oriented, very structured, very disciplined. In England, on the other hand, I think maybe the individual quality of the players is a bit higher. In England it's definitely more athletic, faster, that's perhaps the biggest difference.
These are also attributes that are linked to the men, that the game in England is very fast, that it goes back and forth. When Harry Kane was asked about his first days in Munich, he also said that he was surprised by the quality. You can see parallels there. One is perhaps more tactical, the other more dynamic and physical. To what extent does the English game suit you as a slightly smaller but fast player?
Laura Wienroither: Yes, I think I'm basically a type of player that suits English football a bit better. But yes, as you said, both leagues are now at a very high level.Maybe there is just a bit of difference in the way of playing football.But that's the way it's supposed to be, it's two different countries, two different cultures, so it just keeps it interesting. And you could also see that last year, that teams in the German league have moved much closer together and now a lot of games are already at a high level.
Would it be an option for you in the short or long term to come back to Germany or to the German-speaking countries? Laura Wienroither: I have to say, at the moment I feel really, really comfortable and wouldn't want to change my environment now. I like the English mentality very much, I like London very much. That's why I see no reason at all to want to change anything